You've narrowed down the next piece you want to add to your collection—the silver cross stud earring that has become a staple in the closets of not only women across the U.S. but all over the globe.
When you are shopping for the perfect items, details matter.
Earrings are a very personal choice. The choices can be overwhelming when you shop, so we've compiled a list of questions to consider in shopping for the perfect silver cross earring:
What materials do you want them to be made out of?

Do you want them to dangle or be a stud earring?

what size cross should I pick?
Considering Materials when it comes to your Cross Earrings
One of the most important factors to consider is what you want your silver earrings to be made out of. There are many options on the market such as silver-plated brass, silver-plated stainless steel, and sterling silver. Silver-plated brass is likely going to be your cheapest option in most cases, but will probably only last you a few months (if you're lucky, and only if you're constantly looking after your jewelry).
If you're planning on wearing these cross earrings on a daily basis, then we'd recommend continuing your search. Silver plated stainless steel is another more economical option. Just be careful if you are sensitive to nickel. Some stainless steel jewelry can contain nickel and has been known to cause skin reactions to those who are sensitive to it. Stainless steel has also been described as looking cheap to some.
Sterling Silver and Fine Jewelry
If you share this sentiment, once that sterling silver-plating wears away in a few month, you might not love the look of the cross earrings you're left with. Another still-economical and higher-quality option is sterling silver.
Sterling silver jewelry is our favorite at Lucy Nash because it's waterproof, hypoallergenic and if it's cared for properly, it can last a lifetime. Sterling silver is also an extremely visually appealing jewelry metal, and in our opinion, looks much more luxe than stainless steel.
Our favorite cross earrings:
1.     The Adina Stud Earring: Silver Cross Diamond Earring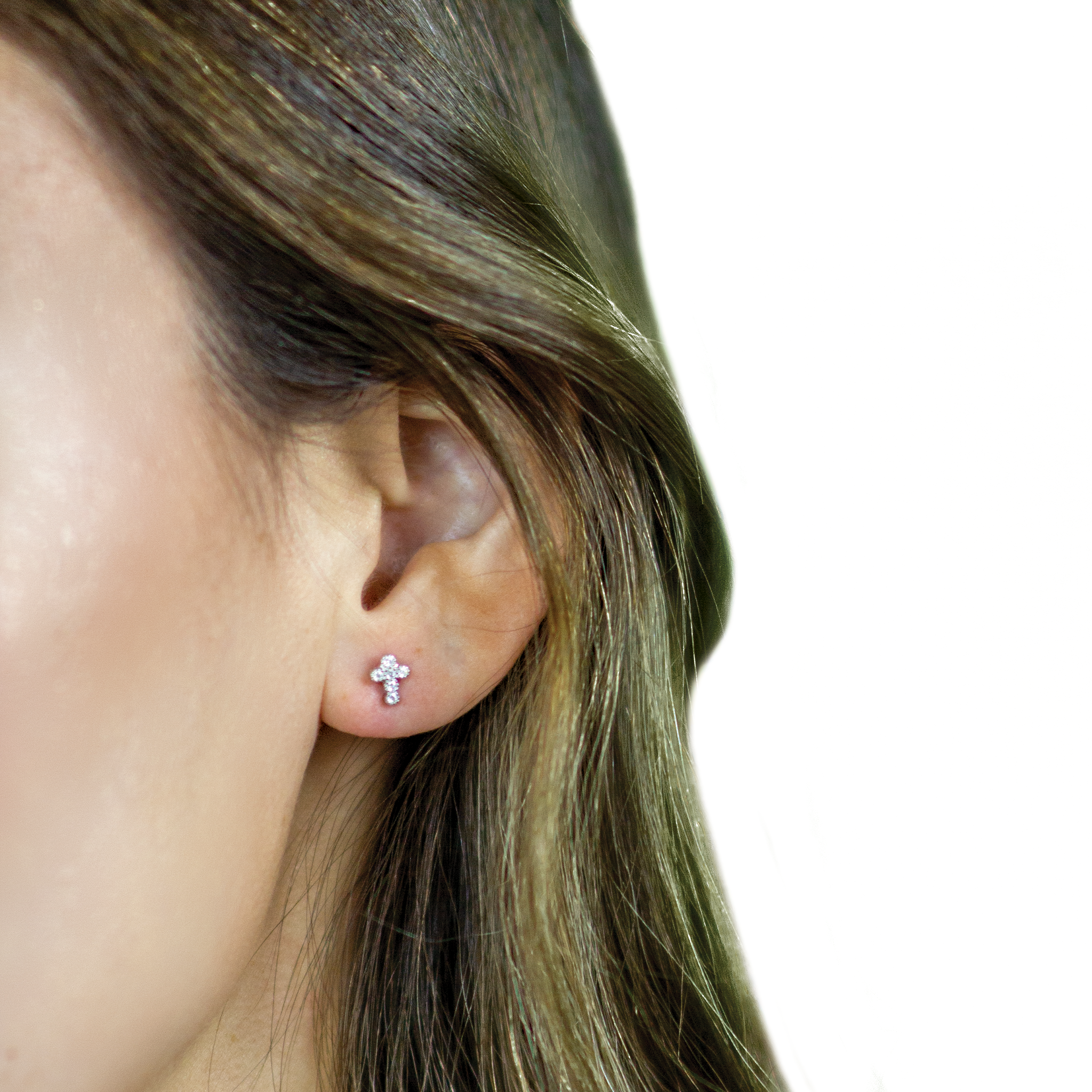 2.     The Ruth Stud Earring: Silver Cross Earring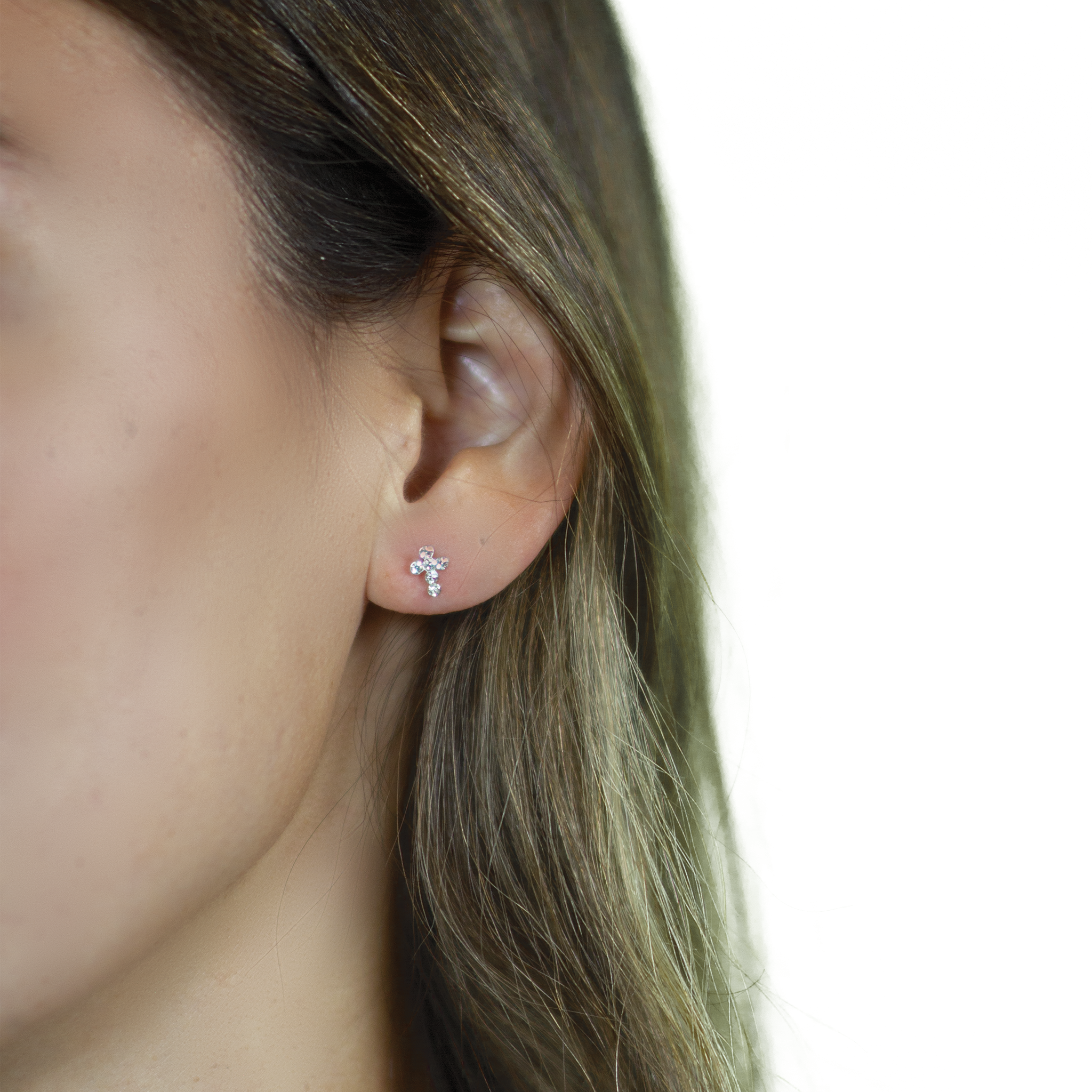 Dangly Earrings vs. Studs
Another factor to consider is whether you want your cross earrings to hang down off your ear or if you would prefer the stud style. Dangly earrings are certainly going to capture more attention, and if that's what you want, we say go for it!
If you're more of the subtle and dainty jewelry-type, we recommend the stud, as it's not as visible unless you're more focused in. Dangly earrings are also likely to be more distracting to the wearer so if you prefer something that you can set and forget, perhaps going with the stud option is a better fit for you.
Size Matters
When choosing your silver cross stud earrings, you'll definitely want to take size into consideration. Asking yourself if you prefer a more understated and subtle style earring or if you want to go for a chunkier look is key when starting your search. After you've decided what size you want to target, be sure to take a look at the measurements of the earrings in the jewelry product description.
Also try to see if there are any pictures that show the earrings on a model so you can see how big it looks on the ear prior to purchasing. You will see example of our pieces being worn and the size measurements listed in the product descriptions for all Lucy Nash Jewelry. See the example below:
In Summary
We're excited you've decided to pull the trigger on a pair of silver cross earrings! Just be sure to keep in mind the quality of material you're wanting to invest in based on your budget and any skin sensitivities or allergies you might have. You also need to make sure your money goes as far as possible with fine jewelry.
Determine what style of cross earrings would fit your personality—are you aiming to be noticed or are you wanting to be more subtle? Lastly, make sure you pick the right size for you! We hope that we were able to help and you spend the time getting the right items. Shipping can be difficult and delivery should be quick.
If you decide to go with a pair of Lucy Nash silver cross earrings, please tag us on our Lucy Nash Instagram!
If you drop your email on the shop page, you can get an even better price. You'll get 10% off your first order!