Inspo for Different Types of Bracelets
Because there are so many unique types of bracelet out there so really, there are an infinite number of types of bracelet out there, so I am going to focus on just a few broader categories.
Inspo for Chunky and Bold Bracelet
Tennis bracelets have become huge this year and we don't see them going away for the foreseeable future. Gold and chunky pieces are also a big trend so we love the idea of a chunky gold tennis bracelet. It goes with everything so you can't go wrong. They are also stunning on their own or they can be worn with other bracelet for a more layered look. Our Tiffany Tennis Bracelet is a great option.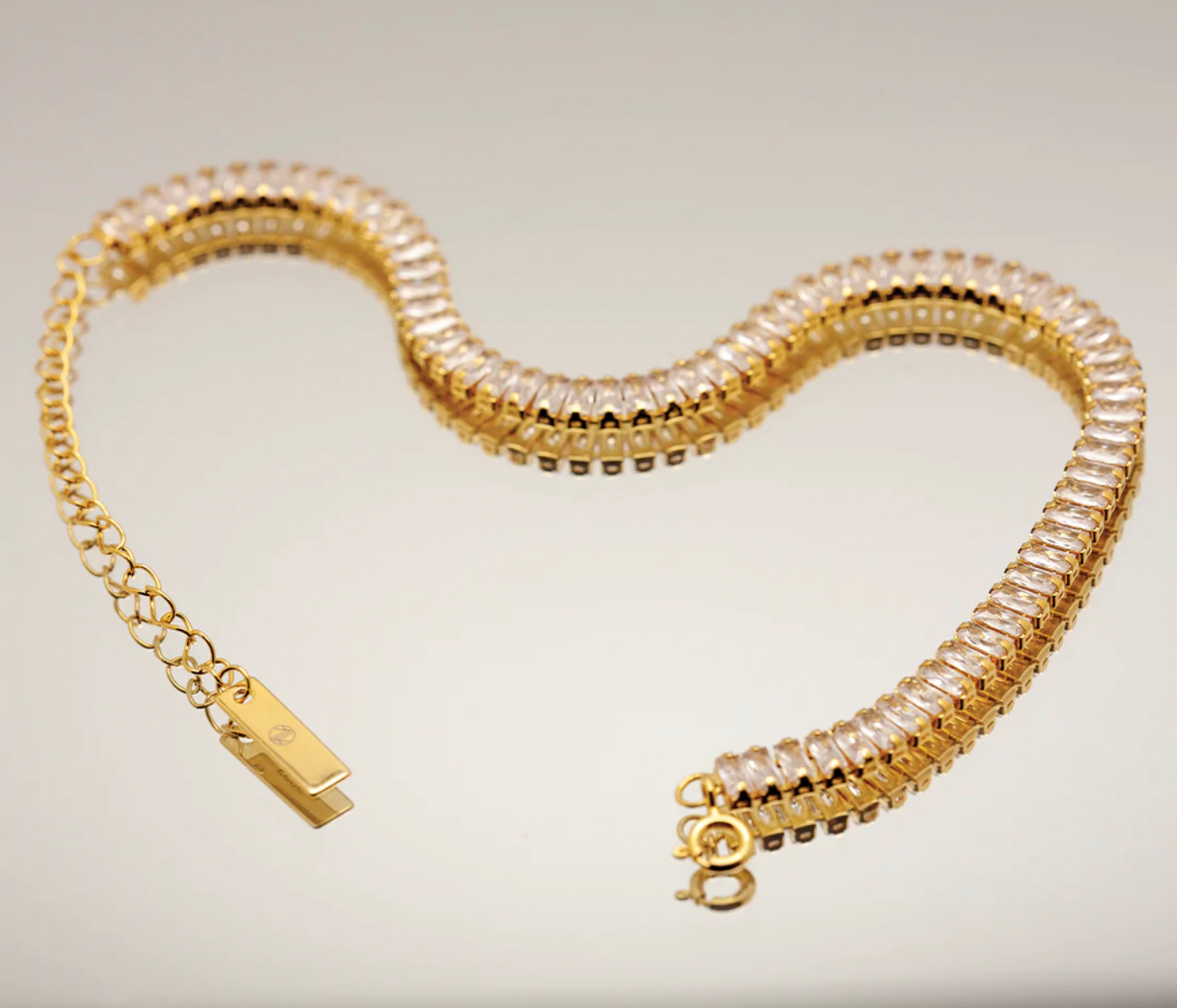 Inspo for Thin and Dainty Bracelet
Although gold and chunky is big right now, it's great to have those timeless and classic pieces in your collection as well. These pieces will stay with you in your closet forever and you'll be glad you have them because they are always a safe bet. If you're unsure what the vibe of the event will be, avoiding being overly flashy is probably your best call, so a daintier piece is probably the way to go. Our Clement Bracelet is a dainty closet staple.
Inspo for Stacked and Layered Bracelets
Why wear just one bracelet if you can stack 5? This year, more is more when in comes to bracelet stacking. Stacking can be applied to both dainty bracelet and chunkier bracelet. The best part is that there are no rules when it comes to stacking bracelet. You can mix metals in your stack, you can mix color and neutrals—really anything goes.
Our best recommendation is to really pick pieces that are true to you and speak to your personality. If you're wanting a more fun vibe, toss in some color. If you are wanting to be seen as elegant and sophisticated, try going for more neutrals and classic pieces.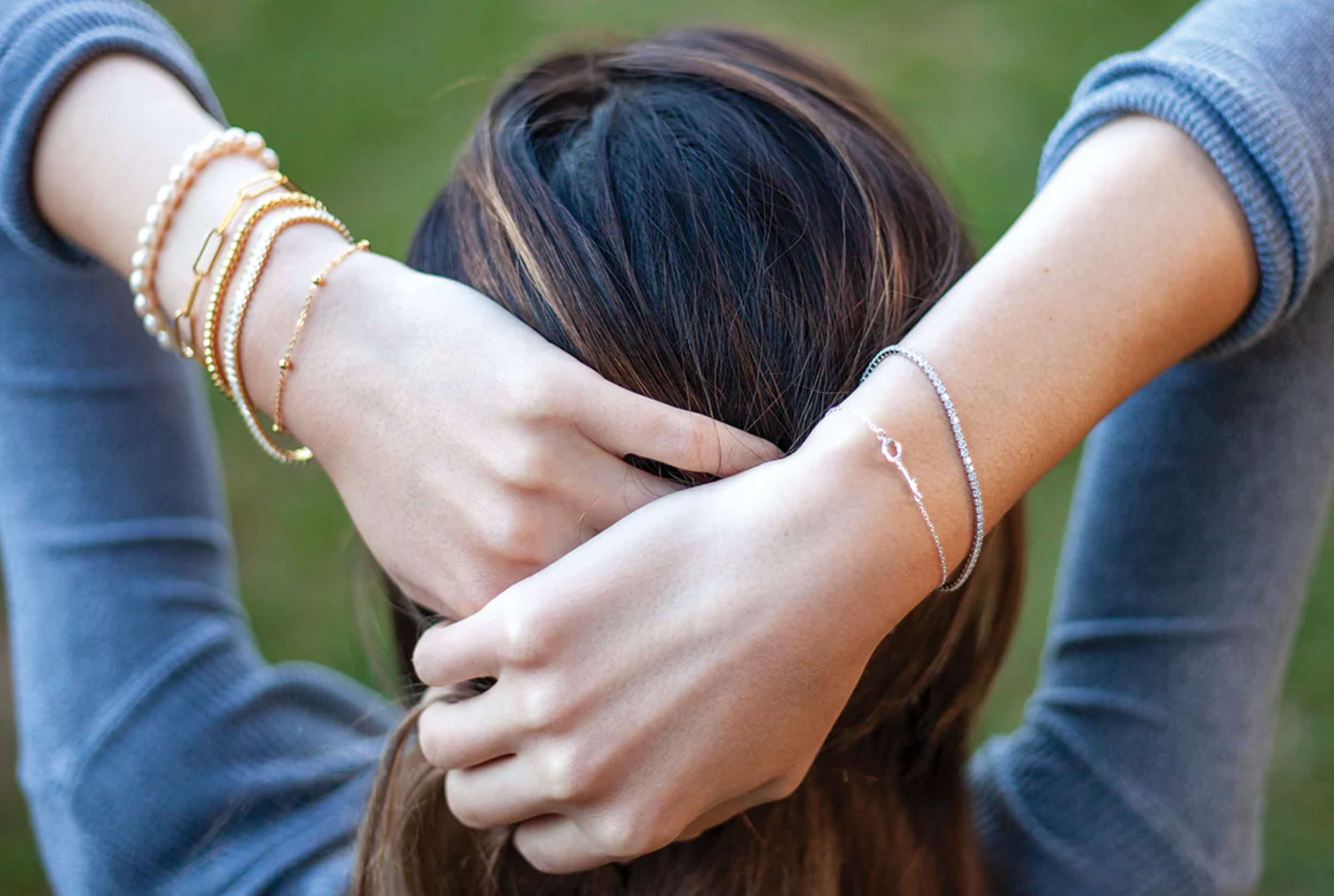 The Color vs. Neutral Bracelet
Depending on your aesthetic, you might prefer a more color beaded or gemstone bracelet or maybe you prefer a bracelet that fits your neutral palette.
Color bracelets are great for warmer weather months and a more casual environment but depending on the piece and the style of your outfit you're going for, it might be able to be worn year round.
Neutral bracelet are in use in cooler months more often than their color counterparts. At Lucy Nash, we carry primarily neutral bracelets in silver and gold with color less stones. This is mainly because we want the bracelet to fit any occasion and outfit.
My 2022 Bracelet Collection
I like having a good variety of options in my closet so I try to have a little bit of something similar to the inspo above. I have chunkier gold pieces, more classic and dainty pieces and I also have both color and neutral bracelets.
Make Use of Resources and Share Your Inspo You Found
There are plenty of other places to find bracelet inspo out there. Outside of this article, you can find inspo on pintrest, instagram, fashion blogs, people watching etc. There are an infinite number of inspo resources.
Regardless of how you get your inspo, make sure to share you tell others what you're loving also so others can use you as an inspo outlet as well as they build out their perfect bracelet collection.